Common Core Changes and State of the City
Common Core Changes in NY / The State of the City – UPDATED!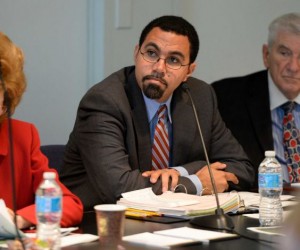 It's a busy Monday for NYC Education! The NYS Regents Board held a meeting to announce recommendations for common core changes, and Mayor De Blasio delivered his State of the City speech, pushing hard for his Pre-K and Middle School plan.
Here are the quick main points.
Recommendations include more time before new High School tests affect graduation. This is the major announcement, really. Common Core graduation requirements for high school students are delayed until 2022. More here: 
http://www.regents.nysed.gov/meetings/2014/February2014/214p12hea3.pdf
Reducing local testing
The measures approved by the two committees today will reduce local testing by:
Increasing flexibility for districts to reduce local testing used to inform teacher evaluation

Creating an expedited review process for districts that propose to amend their teacher evaluation plans to reduce local testing

Eliminating local traditional standardized tests for K-2 used to inform teacher evaluations (The State does not administer traditional standardized tests in K-2.)

Capping at 1% the instructional time that can be used for local assessments used to inform teacher evaluations (The federally required State assessments in grades 3-8 English Language Arts and Mathematics account for less than 1% of instructional time.)

In addition, the Board and SED will support reducing standardized testing by local school districts through "Teaching is the Core" grants that require districts to review their local assessments and eliminate any unnecessary or duplicative assessments.
PARCC
King noted that New York's participation in the Partnership for Assessment of Readiness for College and Careers (PARCC) will be limited to field testing only during the 2013-14 and 2014-15 school years.

Teacher Evaluations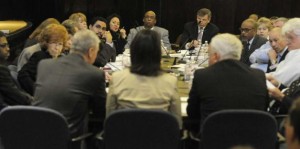 Although only 1 percent of teachers were rated ineffective in the first year of statewide teacher evaluations, the measure approved by the committees today will provide added protection for educators by approving an emergency regulation to protect teachers and principals from unfair termination based on 2012-13 and 2013-14 assessment results in districts that did not timely implement the Common Core by providing adequate professional development, guidance on curriculum, or other necessary supports.
Data Privacy (see here for our previous post on privacy concerns)
King also announced the State has delayed the launch of the data dashboards related to inBloom to allow SED to work with legislators to address concerns about data security and third party providers used by the State and districts.

LD and ELL Students
SED will ask USDOE to allow students with severe disabilities who are not eligible for alternate assessments to be tested at their instructional level rather than their chronological age level, and allow English Language Learners to be tested in their native language for their first two years of assessments.
(As an opposing view, check out the National Center for Learning Disabilities, which opposes below-grade-level testing http://www.ncld.org/images/content/files/Testing/ny_regents_01_29_14.pdf )
NY Regents are set to vote 2/10 on separate testing for some students. Find out why we think this is a bad idea. http://t.co/zsGUHHf5nE

— LD.org (@LDorg) February 6, 2014
Double Testing
The requested NCLB waiver will effectively end the "double-testing" of approximately 50,000 students, beginning with the spring 2014 assessments. If a student takes the Regents in 7th or 8th grade in math, they will not have to take the state test
The State Ed Department's press release has the full report of the work group: http://www.oms.nysed.gov/press/regent
s-adjust-common-core-implementation.html
As always, the Chalkbeat blog has a great writeup that puts this in context: http://ny.chalkbeat.org/2014/02/10/regents-recommend-slower-rollout-for-high-school-common-core-exams/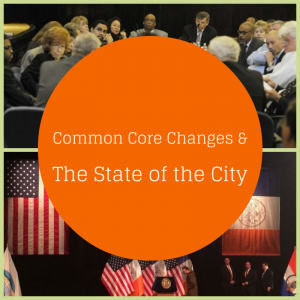 UPDATE! – This is from Yasmeen Khan, at WNYC
In a fiery statement, the governor charged that the Regents were halting the teacher evaluation system and seemed to question the Regents' competence overall.
"As far as today's recommendations are concerned, there is a difference between remedying the system for students and parents and using this situation as yet another excuse to stop the teacher evaluation process," said Cuomo. "The Regents' response is to recommend delaying the teacher evaluation system and is yet another in a long series of roadblocks to a much needed evaluation system which the Regents had stalled putting in place for years."
The Regents, and State Education Commissioner John King, reiterated that the teacher evaluation system was a priority and that the change was meant to protect teachers from being unfairly removed from their jobs.
Full story here: http://www.wnyc.org/story/cuomo-and-state-ed-officials-odds-over-how-help-rollout-common-core/
SECOND UPDATE!! 
The board of regents voted to approve delaying the requirements for High Schools, but it POSTPONED a vote on protections for teachers who are fired in the next two years. Full story: http://wxxinews.org/post/regents-pull-teacher-protections-common-core-changes-final-vote
The STATE of the CITY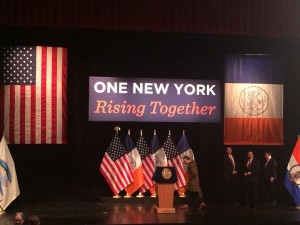 Pre-K and Afterschool
The mayor repeated some of his talking points from his trip to Albany, which we covered here. The highlights: He's not asking Albany to raise the state tax, "by even a penny." He's asking only for the permission for NYC to tax itself, which NYC Mayors regularly get.
For those making between $500,000 and a million dollars a year, that means an average of about 970 bucks. #SOTC

— Bill de Blasio (@BilldeBlasio) February 10, 2014
About Cuomo, he said: "people of good conscience can have disagreements about the right way to do things." He also referenced a ruling from the state court of appeals, which stated that NYC schools deserved billions of dollars more in funding. He stated that the Pre-K and Middle School plan would start this September. (If you were watching the live feed from nyc.gov, you then saw a cutaway to Carmen Farina mouthing to those around her, "I could do some now!")
"We have a detailed plan to put this program into effect THIS September 2014." –@BilldeBlasio #SOTC — UPKNYC (@UPKNYC) February 10, 2014
Higher Education: Ambitious goal! Within 8 years, the Mayor wants most NYC tech jobs filled by those who've been trained in NYC schools. De Blasio announced a dedicated STEM (Science, Tech, Engineering, and Math) program at CUNY, which he calls the "engine of the city." He called higher education, "the great equalizer," and vowed to shift subsidies from corporations to tuition assistance.
"Higher education is … The great equalizer … We will shift subsidies from corporate subsidies to tuition assistance" @deBlasioNYC #sotc — Richard Buery (@RichardBueryCAS) February 10, 2014
Richard who? 
Richard Buery. New appointee to the Mayor's staff. Impressive man. You're going to see more and more of that guy, as the Mayor's Pre-K point man. More here.
What else did the Mayor say?
Lots. He promised a higher minimum wage, paid sick leave, and negotiating the 150 union contracts that the previous administration left open. 
 Here is the full text http://www.nydailynews.com/blogs/dailypolitics/2014/02/mayor-de-blasios-sotc-full-text

UPDATE! – Dysfunction in Albany may keep kids from school
A Republican State Senator is refusing to allow De Blasio's request for NYC to increase tax on those earning over $500k a year for the next five years (an increase of $970) to come to a vote. Publicity stunt? Appeal to his base (in Long Island)? Stalling of the democratic process? Legitimate concern over funding Pre-K for every child in NYC? Here's the Daily News' take on it: http://www.nydailynews.com/news/politics/state-gop-leader-threatens-block-de-blasio-pre-k-plan-article-1.1609245
If you thought this was useful, please share it! Use the buttons below for Facebook and Twitter.