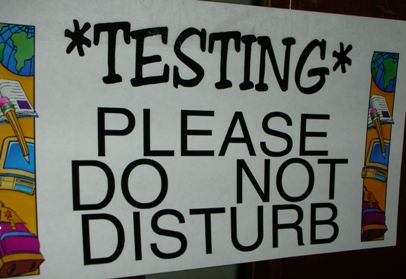 The Test Scores are Coming
8-6-13
THE TEST SCORES ARE COMING! THE TEST SCORES ARE COMING!
New York City's Spring 2013 ELA and MATH scores for grades 3-8 will drop Wednesday. And by 'drop' we mean, both 'get released,' and 'fall.' The switch to a new test, with harder questions, has come under fire in light of the city's warning about the scores. Is it a referendum on Mayor Bloomberg's educational policy? The union thinks so. Is it a premature move to ask students to answer more in-depth test questions without first enacting the new Common Core lessons? Should this test be measured against the previous test or is it a new benchmark?
All we know, thanks to the city's attempt to manage expectations, is that it looks bad. The number floating around says 1/3 of the city's students are reading on grade level. Which means 2/3 are not.
2/3
66%
Are not on grade level.
Expect to see general scores this week, and very specific ones next week.  In preparation for tomorrow's numbers and before the flurry of news, here is your primer on the situation.
BLOOMBERG
The Wall Street Journal takes Bloomberg to task for previously using test scores to prove that his policies worked, and then changing his tune now saying they don't mean much. The paper takes apart why the tests are harder, explaining the types of questions (ie, a math question that requires multiple calculations). They also put the test in context with a national exam, mention poverty rates, and bring it home with stats from a poll of parents.
http://online.wsj.com/article/SB10001424127887324653004578648463725877002.html
The New York Times also focuses on Bloomberg's legacy, taking note that NYC mayoral candidates have already fired salvoes about fixing his broken system (sound familiar?). DeBlasio calls it "a wake-up call." Thompson rings the refrain of the union that endorsed him: the city should use resources to help teachers with the new standards. City Hall, in response, asks the public to look at increasing graduation rates, and the full record. How does Common Core play in? Are we just setting a higher bar?
http://www.nytimes.com/2013/08/05/nyregion/results-of-new-testing-standard-could-complicate-bloombergs-final-months.html?_r=0
TESTING
Mother Jones focuses instead on "TUDA, the subset of the national NAEP test aimed at urban districts." In these tests, NYC scores have increased, but less than other big cities.
http://www.motherjones.com/kevin-drum/2013/08/test-scores-new-york
THE UNION
WNYC trumpets the Teacher's Union and the Schools Chancellor squaring off:
http://www.wnyc.org/blogs/schoolbook/2013/aug/04/union-chancellor-square-eve-test-score-results/
Chancellor Walcott says the union is trying to politicize the scores, and UFT president Michael Mulgrew says that the heavy reliance on test prep during Bloomberg's tenure has led to this.
Whatever the scores are on Wednesday, expect to hear some noise on all sides of this issue. We will do our best to sift through it all for you, to bring you the best insight from a range of sources. Check back later in the week – and if you find a great resource as the news rolls out, send it our way!
Facebook: www.facebook.com/CtrTeacherEd
Twitter: www.twitter.com/CtrTeacherEd