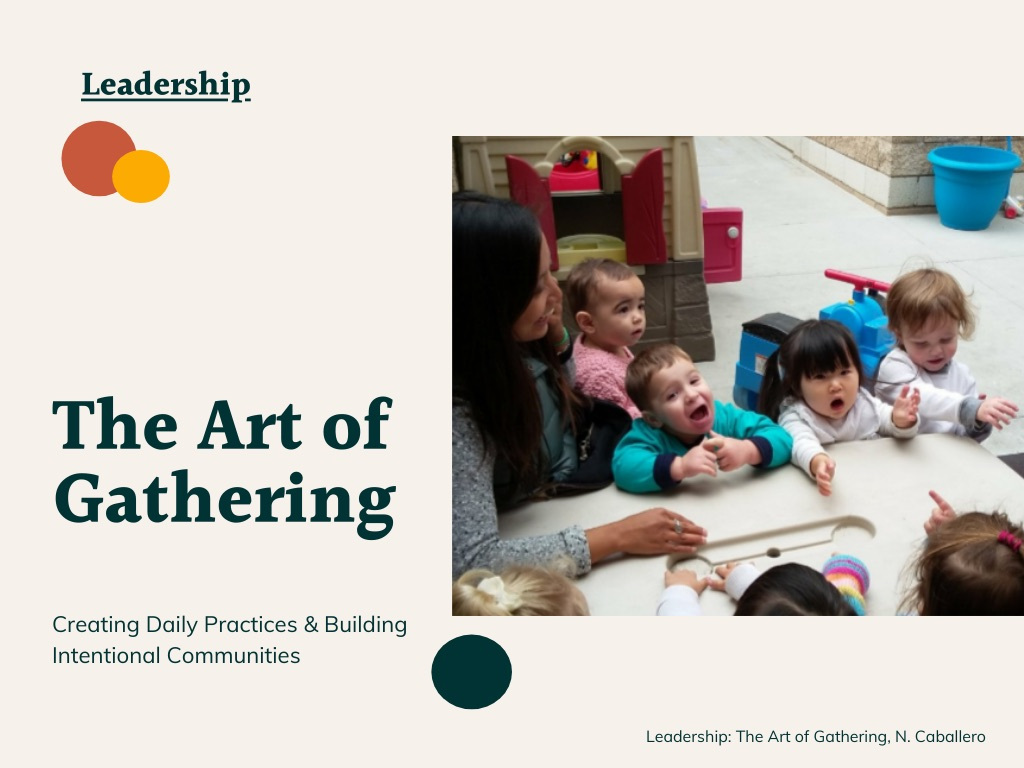 The Art of Gathering for School Leaders
___________________________________
The Art of Gathering for School Leaders
by Niña Caballero
After reading Priya Parker's "The Art of Gathering, How we Meet and Why it Matters", I reflected on my own daily interactions. I wanted to start thinking about every 'meeting' as an invitation to gather intentionally- a coffee date with a friend, dinner with family, a workshop with ten families or two hundred families , any time I walked into a classroom full of toddlers! Each of these meetings, whether with one person or five hundred people, is an opportunity to meaningfully connect.
Priya asks us to think more deeply about the purpose of the gathering without getting caught up in all the details. Once you solidify your purpose, you can create community for the specific group that you wish to gather. Starting with purpose and building around that is a skill and involves much thought and practice. It calls leaders to constantly re-examine their own processes, thinking about how to build better communities. Gathering is a form of leadership. I wanted to apply this to the work I do supporting people in leadership in education. I took what I learned from this book to create a workshop, The Art of Gathering- Creating Daily Practices and Building Intentional Communities. How do we gather in schools? How does the way we gather build community? And why does this matter?
We are gathering very differently these days. Children are living through a pandemic. They are attending schools socially distanced or learning remotely from home. They are absorbing different messages about social injustices in the world and in their own lives. This makes the way we think about gathering even more important. How can you continue to build connection with your learners and community? Two of the ways to meet this moment are to reflect on your values as a leader and to use your intentions to cultivate daily practices. When you do this, you can use these daily practices to help create connected, affirming, and empowering gathering spaces online and in person.
Here are 3 questions to ask yourself when creating intentional gathering spaces. Remember, a gathering can be a classroom, virtual zoom classrooms, online meetings, or even morning interactions with parents.
1. What is the purpose of this meeting?
2. What is the desired outcome?
3. What is it you want people to walk away feeling when they leave the gathering?
Start here. Start today. I encourage you to continue to re-examine why you gather and why it matters. If you'd like to learn more, find Priya's book here.