DeBlasio and Farina Meet Principals
DeBlasio and Fariña Meet Principals
Mayor DeBlasio and Chancellor Fariña met with Principals at Brooklyn Tech High School. Chirlane DeBlasio introduced her husband, speaking about the importance of making students aware of their choices. The Mayor spoke about his Pre-k and after-school plan, and set the tone for his administration's stance on schools: "I'll say it very simply. I am not trying to bring an outside model, a corporate model, a private sector model," he said.
Chancellor Carmen Fariña walked up to a huge round of applause, joking, "I knew you were happy, but I didn't know you were this happy!" She announced three new appointments:
Dorita Gibson – Dorita Gibson, previously the deputy chancellor for equity and access, will be Fariña's second in command, the Department of Education announced today. In her previous position, Gibson supervised the department's system of alternative schools and its work with the Bloomberg administration's Young Men's Initiative, and launched new programs to diversify selective high schools.

Phil Weinberg – Phil Weinberg, principal of the High School of Telecommunication Arts and Technology, is the department's new deputy chancellor for teaching and learning. That position, which Fariña herself held a decade ago, disappeared in 2010 when the department dissolved its division of teaching and learning.

Weinberg has chosen the city's former gifted education chief, Anna Commitante, to be his top deputy. Commitante had been working as a deputy in one of the department's five "clusters," providing instructional support to dozens of schools.
"This is a new era for our schools, and these appointments send a clear message: our focus is on improving each and every classroom across the five boroughs," Fariña said in a written statement. "Having three educators with such extraordinary expertise about our city's schools will help us channel all of our energy into quality instruction." Fariña said.
More on these appointments and what they mean here: http://ny.chalkbeat.org/2014/01/29/Fariña-promotes-longtime-principal-bloomberg-era-deputy-to-top-posts/
And here: http://www.wnyc.org/story/chancellor-names-two-top-deputies/

DeBlasio and Fariña Meet Principals:
Policy Changes
Principals must now be in the system for seven years (in contrast to the previous administration's fast-track). She's creating elementary, middle school, and high school advisory boards to review policy coming from tweed.
Fariña struck a collaborative tone, mentioning Earnest Logan of the CSA and Michael Mulgrew of the Teacher's Union. She didn't directly address the recent anxiety of the common core rollout, but she did speak of meeting John King and Meryl Tisch as well as reviewing the teacher evaluation systems.
More details on the excellent Chalkbeat blog: http://ny.chalkbeat.org/2014/01/29/principals-applaud-Fariña-de-blasio-as-leaders-present-a-tone-shift/
For video, see NY1: http://www.ny1.com/content/news/education/202683/mayor–chancellor-lead-principals-meeting
To hear audio, check out WNYC: http://www.wnyc.org/story/chancellor-principals-experience-matters/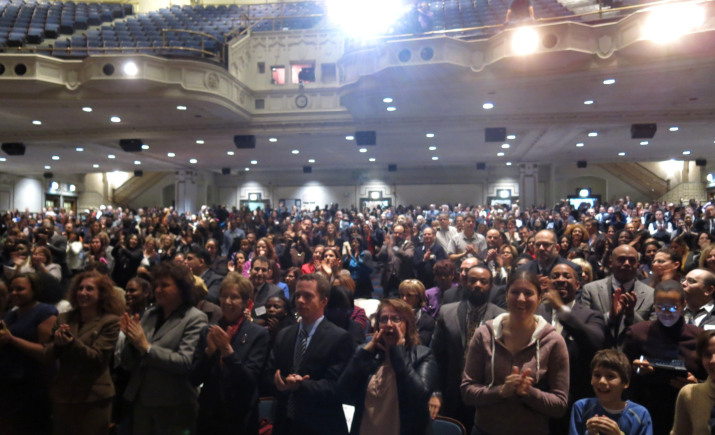 As a telling detail, Weinberg earned the largest reaction when he announced that Principals would have no more caps on their email, echoing Fariña's pledge to reduce paperwork, and tasks "that are driving you crazy." That's someone in charge who's walked the walk!
As DeBlasio and Farina meet Principals, here's another detail that signals a clear departure from the Bloomberg era: The Mayor and Chancellor came to the Principals first, before meeting the superintendents. There is a sense they are listening.