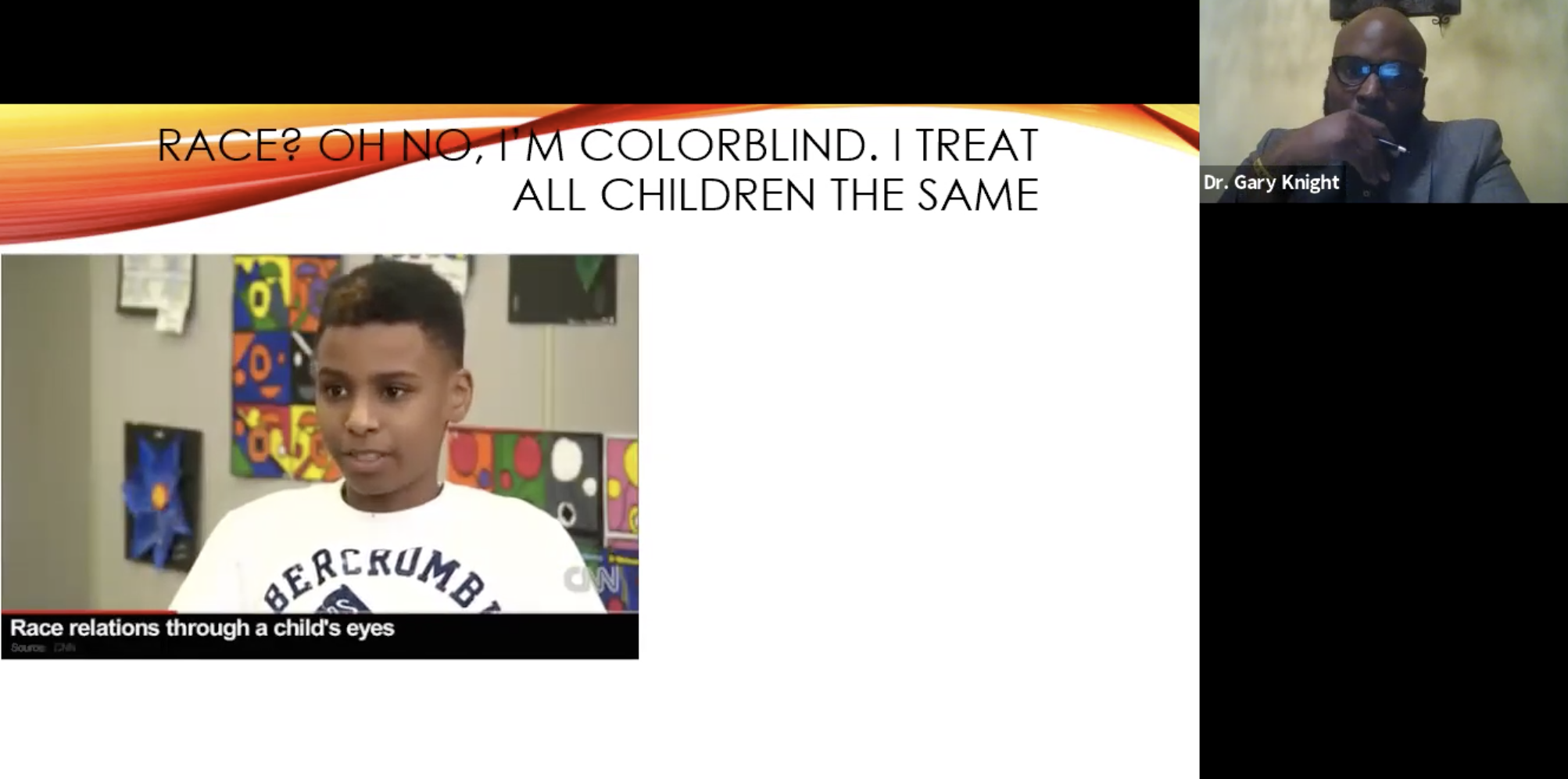 Bias-Based Beliefs in Education
This interactive seminar, presented by Dr. Gary Knight, focused on Bias-Based Beliefs in Pedagogy and School Practice
Research highlights the relevance of bias, both implicit and explicit as operating in school settings. There are three types of bias-based beliefs relevant for leaders to understand: (1) colorblindness; (2) deficit thinking; and (3) poverty disciplining. Based on research, we know that teacher ideologies and beliefs about the student population they serve can have a positive or negative effect on the student outcomes via the actions and behaviors teachers choose to employ in the classroom (e.g., Madon, Jussim, & Eccles, 1997) Furthermore, in current research, biased based beliefs in disproportionate school districts demonstrate colorblindness, racial discomfort, and deficit thinking as operating against teacher self-efficacy (Fergus, 2016).
The intention of this seminar is to equip school leaders with an understanding of these bias-based beliefs moving forward on how to structure professional learning experiences in order to replace those beliefs with equity principles.
More about Dr Knight:
Gary Knight is a Performance oriented equity leader with significant experience in all aspects of academic services. Experienced in coaching educators at all levels of an organization. Skilled in the design and facilitation of workshops aimed at providing support with diversity, equity, and inclusion. As a leader in strategic initiatives, I work with offices to coordinate diversity, equity and inclusion efforts, assisting with recruitment and retention of diverse faculty, staff and students, and to deepen connections in diversity, equity and inclusion work across an organization.
As a courageous, collaborative, strategic and inspiring leader, I work to build programs and partnerships that address intersecting dimensions of diversity. My approach to the work includes emotional intelligence and strong communication and conflict-resolution skills to move organizations forward in its ambitions. My background and experience has enabled me to acquire advanced skills in collecting and using data to assess programs; familiarity with and support of shared accountability in an academic setting; significant experience and demonstrated strengths in coaching and mentoring; and the capacity to bring together community resources in support of institutional change and growth.
For information on our next seminar on race and education, please fill out your info below.
____________________________________________________
CITE is the Center for Integrated Training and Education.
For over 25 years, CITE has trained and continues to train:
TEACHERS: General and Special Ed Masters (Early Childhood or Childhood), TESOL Masters, Special Ed license extension courses, Bilingual license extension courses, TESOL license extension courses, Early Childhood license extension courses
COUNSELORS: School Counseling Masters, Mental Health Counseling Masters, Advanced Certificate in Mental Health or School Counseling
ADMINISTRATORS: School Building Leadership, School District Leadership, Doctorate for CSA members, Doctorate for non-CSA members, Public Administration Master's
— in all five boroughs of NYC, Yonkers, Westchester, and Long Island. Currently all classes are online.
CITE PD: CITE offers CTLE-approved in-school or online professional development tailored to your school's needs and your vision. We can work remotely with your staff and parents. Info: citepd.com