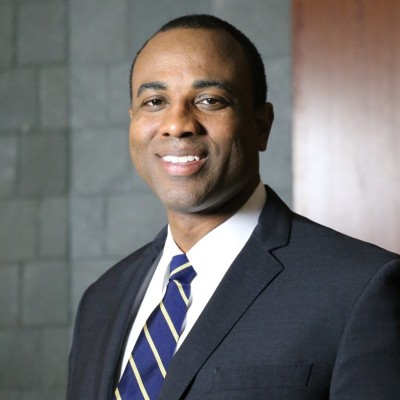 Alumni Success – Kinsley Jabouin
Kinsley Jabouin is the new principal P.S. 9, The Ryer Avenue School, Bronx, NY, and a graduate of the College of St. Rose / CITE program. Congratulations on the new job, and all the best, Kinsley! Below are Kinsley's thoughts on being a new principal, the St. Rose/ CITE program, and servant-leadership.
What made you decide to become a principal?

I decided to become a principal because I wanted to have a broader impact on student learning, learning outcomes, and help develop, shape, and cultivate a holistic educational experience for all students. I wanted to be a different kind of leader that was focused on whole child development in addition to the academic components. Many leaders focus only on academics and do not focus on a holistic approach. To overcome the systemic challenges our educational system faces, we must create spaces that close the achievement gap, reducing or eliminating social-economic disparities, infusing cultural responsiveness, and work toward equity and liberation to have a truly just educational system for all.  My goal is to ensure every child receives the education they deserve and are entitled to with support and guidance from all school personnel.  
How was your experience taking Saint Rose courses?

The College of St. Rose provided one of the best educational experiences given that it was practitioner based, not just theoretical. The lessons learned, courses taken, and classroom discussions at Saint Rose allowed for immediate implementation from day one. From my first class to my last class, I learned a great deal and the lessons learned helped me go from Special Education Teacher to District Intern. From there, I was able to become an Instructional Building Leader at P.S. 9, The Ryer Avenue School, in District 10, of the Bronx, NY. Reflecting on the learning, in addition to the support from professors and classmates allowed me to make a seamless transition into public school educational leadership. 
Tell us about what you're doing now in your school.

I am currently the Instructional Building Leader of P.S. 9, The Ryer Avenue School, in District 10, of the Bronx, NY. In this capacity, I can implement the research-based approaches I learned through the program classes at St. Rose and apply them to my school context. Through partnership and collaboration, we can bridge the economic and social divide. We are always looking for partners and collaborators to help us to meet the needs of our students and the greater community.  I continue to have the support of my classmates, professors, and CITE/Saint Rose during this journey and transition. This is challenging yet rewarding work. The future of our communities, our city, and this nation rests with our youth. I want to ensure they all reach their fullest potential.  
Do you feel that CITE/Saint Rose prepared you for your career goals?

CITE/Saint Rose has prepared me to transition my career goals and aspirations from dreams to reality. I was able to take classes, take the necessary examinations, and get fully certified within a short timeframe. I evolved from SDL Internship to EDA 602, to the principalship.  Professors Blaufarb and Matta were a dynamic duo that worked with me to ensure that my internship was rewarding and productive. Furthermore, they instilled the necessary components of educational law to perform our duties and responsibilities to the highest degree of professional and ethical standards. Dr. Pate helped to ensure my internship not only met the needs of the district, but my own professional goals as well. Dr. George-Fields prepared me within the SBL classes for the rigors of SDL. This was especially helpful given that I completed my SBL through an out of state program. Dr. Gassaway held us all to high standards of excellence and quality. I went from his EDA 602 class, to becoming an instructional building leader.  Every class I took, and Professor I had, was of the highest caliber. The lessons learned throughout the CITE/Saint Rose program guaranteed I would become successful from the first day, throughout, and beyond the day I became a leader, even during a global pandemic. This program provided me with knowledge, skills, and competency to ensure I could learn, lead, and inspire a learning community. CITE/St. Rose prepares graduates for the rigor of the entire C-30 process. I am excited to work for District 10, our Superintendent Torres-Hulla, Deputy Superintendent Mautschke-Mitchell, and Executive Superintendent (of the Bronx) Ross-Porter.  The District and the Borough are in great hands. I am proud to work towards fulfilling the goals and objectives of this unique District and Borough.  We're Bronx Strong!
Where do you see yourself in the future?

Currently, I am fully focused and committed to being an Instructional Building Leader at my school P.S. 9, The Ryer Avenue School. Later down the road, I see myself pursuing a Doctoral of Education degree (Ed. D) and eventually exploring District level opportunities in the latter part of my career. I am focused on impact and creating unique and memorable learning opportunities for the staff, students, and families I serve.  Education is a calling, and I am a servant leader, who works tirelessly for the betterment of those I serve. No matter in what capacity I serve in education, I want to ensure that all students have a quality, equitable, and holistic educational experience, so that they meet their fullest potential.  I want all the students in my care to become life-long learners who are college and career ready.
The College of St. Rose / CITE partnership offers the following programs:
____________________________________________________
CITE is the Center for Integrated Training and Education.
For over 25 years, CITE has trained and continues to train:
TEACHERS: General and Special Ed Masters (Early Childhood or Childhood), TESOL Masters, Special Ed license extension courses, Bilingual license extension courses, TESOL license extension courses, Early Childhood license extension courses
COUNSELORS: School Counseling Masters, Mental Health Counseling Masters, Advanced Certificate in Mental Health or School Counseling
ADMINISTRATORS: School Building Leadership, School District Leadership, Doctorate for CSA members, Doctorate for non-CSA members, Public Administration Master's
— in all five boroughs of NYC, Yonkers, Westchester, and Long Island. Currently all classes are online.
CITE PD: CITE offers CTLE-approved in-school or online professional development tailored to your school's needs and your vision. We can work remotely with your staff and parents. Info: citepd.com