Pre K Teacher News
Fariña and De Blasio address Pre K Teachers – Pre K Teacher News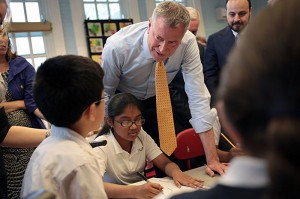 Day 1 for the new Pre K initiative draws near! The Mayor and Chancellor are using this time to rally the new Pre K teachers around the city. They spoke at the new Pre K Initiative, a training program to prep teachers for the classroom. 
Chalkbeat (if you're an educator, you should follow their blog) has several stories covering the training program.

Listen to this post!
Questions about Teacher Prep – Pre K Teacher News
Quick training (3 weeks!) from the city. Is 3 weeks enough time to adequately prep teachers? Many of the new Pre K teachers are career changers. Even those who have been in a classroom for years are bringing their experience in a higher-grade class. They need to adjust style, expectations, etc. 
Mayor and Chancellor address teachers — Pre K Teacher News
DeBlasio tells Pre K Teachers they are the change makers.
"On Sept. 4, you're gonna see the start of some profound changes in this city," he said. "And you are going to be a part of it. You're going to be history-makers. You're going to be change-makers."
De Blasio delivered a keynote speech to about 1,000 teachers at a three-day summer pre-K training institute at Brooklyn College before the school year. About 4,000 teachers are undergoing 18 hours of training, including workshops, in Queens and Brooklyn
Fariña said of young students' first exposure to formal schooling, "I think one of the joys of being in pre-K is the sense that the world is opening to them."
If you're thinking about becoming a Pre K Teacher, Click here for the overview of our early childhood masters. 
Early Childhood Program overview http://www.citeprograms.com/early-childhood-ed-masters/ 
The Teacher Institute — Pre K Teacher News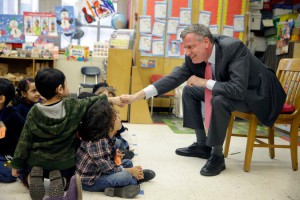 The Mayor and Chancellor highlighted the successful first week of the Teacher Institute,which is being hosted by the New York City Department of Education in collaboration with Bank Street College of Education, and applauded the thousands of committed teachers who have dedicated their time and energy to learning cutting-edge pre-K teaching techniques and best practices at the sessions.  
You can get your Early Childhood Masters and Teach Pre K! Weekend Classes!
Early Childhood FAQs http://www.citeprograms.com/early-childhood-masters-faqs/ 
Huge expansion means more opportunity for teachers, and pressure for the Mayor's administration. City officials have selected 140 public schools where they will be adding 4,268 new full-day pre-K seats, de Blasio said today, a 26 percent increase over last year's total.
While education leaders say there is not an outright shortage of applicants, the number of pre-K seats will increase again in 2015. More teachers will be needed again next year
Get a jump on the job market!
Early Childhood Admissions Requirements http://www.citeconcordianyc.com/admissions/ 
Training has been lacking 
Esther Soto and Betty Garcia, who taught kindergarten and first grade, respectively, at P.S. 112 in East Harlem before switching to pre-K a few years ago, said the transition can be tough, even for those with extensive experience working with young learners.
"We were put back in pre-K with really no training," Garcia said. "It was sink or swim."Though Garcia appreciated the recent workshops, she was disappointed that there wasn't more of an emphasis on curriculum and dismayed by the number of teachers who said their schools had no curriculum at all for pre-K. "The teachers are completely left to their own defenses," she said.
Mentors are not enough
 Whether there will be funding to extend the mentoring past the new teachers' first year on the job is uncertain, however.
Tough standards
 In addition to covering English and math, the Pre – K Standards document encompasses physical, social, and emotional developmental milestones, among others. It specifies that by end of pre-K children should be able to adjust their behavior depending on the setting, for example.
Reporter Madeleine Cummings has the story.
Get certified!
Early Childhood Schedule and Pricing http://www.citeconcordianyc.com/course-schedule-pricing/ 
DeBlasio's Victory
Anything short of a disaster will reflect well on the admin, says the AP.
"But if they have the ability to pull this off, it cuts against the argument that the city hasn't been ready to roll things out. And that would be a huge win." –  David Birdsell, dean of the Baruch College School of Public Affairs.
Click for More News of the Day from Chalkbeat
Early Childhood FAQs http://www.citeconcordianyc.com/faqs/ 
CITE is the Center for Integrated Training and Education . For over 25 years, CITE has and continues to train TEACHERS (Early Childhood, Literacy, Special Ed, Grad Courses, DASA); COUNSELORS (School, Mental Health Masters, Advanced Certificate); and ADMINISTRATORS (SBL, SDL, Public Admin, Online PhD) in all five boroughs of NYC, Yonkers, and Long Island. 
What question can we answer for you? 877-922-2483