How to use Social Media in Schools
How to Use Social Media in Schools
You ask, we answer! *seriously, ask us things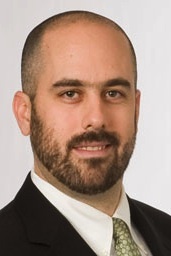 How to use social media in schools is a daunting question! Where do you start? Which social media platforms are appropriate for school use? What's the purpose? Are you trying to communicate with Parents? Can Teachers use it to showcase work? Is this for classroom exploration tied into your curriculum? Who is overseeing everything? This is overwhelming!!
You're right. So, we're going to make it easy for you by talking to experts and teachers about how they are using this successfully. Be sure you sign up for our mailing list to get these how-to posts to use in your school.
This is a post from a tech expert, who took his school, PS10 in Brooklyn, online. They tweet. A lot. Join them!

Social media in our K-5 school, by Chris Casal
This post was originally written as a primer for parents on how the staff & students use various "social media" tools as part of the instructional day. It originally appeared on the PS10Tech blog
I am often asked about how we use "social media" here at PS 10. It is a question that is both very simple & easy to answer and one that is also complex and nuanced. Let me elaborate…
Social media as defined by many people includes things like Facebook and Twitter. According to the Department of Education's social media policy for staff, social media is defined as:
… any form of online publication or presence that allows interactive communication, including, but not limited to, social networks, blogs, Internet websites, Internet forums, and wikis.

Examples of social media include, but are not limited to, Facebook, Twitter, YouTube,  Google+, and Flickr… (source: 

http://schools.nyc.gov/NR/rdonlyres/BCF47CED-604B-4FDD-B752-DC2D81504478/0/DOESocialMediaGuidelines20120430.pdf

)
That is a fairly broad definition, and includes a lot of platforms not generally association with "social media" such as wikis & blogs.
Here is how we, as teachers, use it…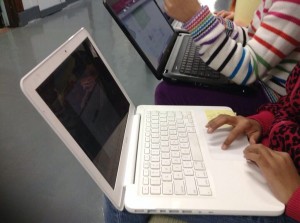 Teachers have class webpages/wikis/blogs to help foster the home-school connection. These sites are great resources for keeping all members of the class community in the loop.
Updates of class happenings are posted, often with pictures (great ways to get insights into the class environment).
In addition, many also post homework assignments, calendars of events, book lists, field trip itineraries, and so forth.
The sites are "social media" and serve the great function of connecting the community & helping to create transparent learning environments.

Teachers have blogs, such as this one, for student writing. I often post assignments for either in-class exercises or vacation homework. These posts are both technical in nature as well as writing focused. Many teachers use the blogs for such things as an outlet for student free-writes.

Using a blog hits many important curriculum areas, such as differentiating instruction as well as meeting many Common Core Standards (see

here

 & 

here

 for examples).
Twitter is used by many teachers to tie elements together. A blog post takes time to write & publish. A web page takes time to write and publish. A tweet can take only seconds and serve the same purpose. Blogs and web pages are great, and the time invested is well worth it. But sometimes there are great things happening in class that deserve to be shared immediately. Twitter is a fantastic platform for that. In addition, some teachers aren't comfortable editing a web page or maintaining a blog.
Twitter is a great platform to create the digital home-school connection & transparent learning environment without requiring a lot of technical expertise.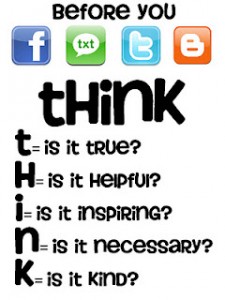 Here is how students use social media…
Checking class web pages to keep up to date on assignments (very useful when absent)
Checking class web pages for resources & follow-up information related to class work
Commenting on class blogs as an option for writing assignments (as mentioned above: differentiated instruction & CCSS)
Creating blogs & web pages as alternative options for projects (again, differentiated instruction & CCSS)
How I, as a computer teacher, use social media…
Blog commenting for assignments

Two classes have student-authored blogs as an experiment into student-run blogging. These blogs are tied to restricted @ps10.org accounts under our control (students have @ps10.org accounts but DO NOT have email inboxes)

Have students tweet from the @PS10Tech account (on an iPad) to write in a different medium, write using digital tools, and publish to a broad audience (again, CCSS)

Use tweets as a style of writing – creating a complete sentence with descriptive language in 140 characters or less is not always as easy as it seems. Composing a tweet can be a great way to teach brevity in writing as well as how to skillfully edit & revise for length without changing meaning
Most importantly, teaching my students a wide range of technology tools and platforms
***At no time do I permit the use of any student's personal email or social media accounts. Anything we do in the lab, or in school, I stress needs to be done within the confines of the school/educational setting. If a student has a personal Twitter or Facebook account, that is between the student and their parents. They are not permitted to access or use those accounts during the school day.
I hope that brings some clarity to the use of "social media" within PS 10. Everything done with social media is done to help create a transparent learning environment, teach 21st century skills and proper use of related digital tools, and meet the needs of all learners through differentiation while also meeting CCSS.
-Chris Casal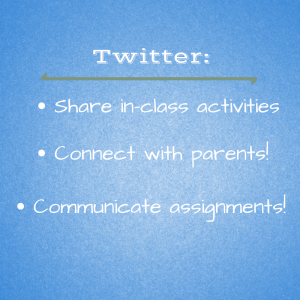 Bio: I have spent over 10 years as a computer teacher & technology coordinator for the New York City Department of Education. I have taught both middle and elementary school. From a SURR (corrective action) school in Bed-Stuy to an A-rated school in Park Slope. I have a Masters in Educational Administration (School Based Leader), and Masters in Instructional Technology, as well as a Masters of Science in Teaching (MST) Grades K-6.
For more reading from Chris Casal, please see the PS10 Blog, for which he also wrote  "We Tweet @PS10Brooklyn. A lot!" http://ps10tech.blogspot.com/2014/02/we-tweet-p10brooklyn-lot.html

 If you found this helpful, please share it using the Twitter or Facebook share buttons!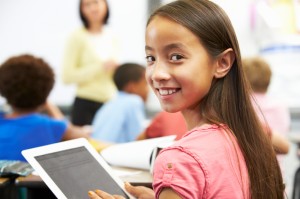 Takeaways:
Class webpages/blogs/wikis:
Updates of class happenings are posted, often with pictures

Homework assignments

Calendars of events

Book lists

Field trip itineraries

Differentiating instruction
Twitter
Great things happening in class get shared immediately.

Some teachers aren't comfortable editing a web page or maintaining a blog.




Twitter doesn't require technical expertise.

Create the digital home-school connection & transparent learning environment.
We're going to explore your questions in a series of blog posts. This is the first. (As a side note – thanks for asking!!) If you want questions answered about how to get things done in your school, email John@citeprograms.com and we'll do our best to find an expert to help answer your question!