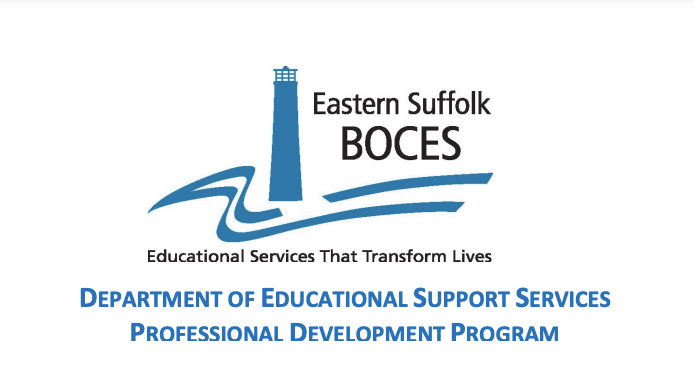 Eastern Suffolk BOCES Workshops
Please join us for our next Professional Learning Opportunity:
How to be Flexible, Creative and Adaptable with Research-Based Literacy Practices in Order to Promote Independence Presented
With Erica Pecorale, presenter
This full day workshop will pull from the most reliable names in Literacy Education to provide
multiple strategies that will empower educators to incorporate well-researched literacy practices
into their daily routines.
Participants will revisit the power of transformative Interactive Read Aloud.
We will examine how meaningful writing about reading can easily be incorporated into our work with
students without excessive teacher planning.
Together we will reset our expectations for students during Independent Reading time by considering how student choices can be viewed as data that helps teachers make informed decisions about their student's next steps.
Teachers will reexamine how small group frameworks can be designed to maximize goals set for all learners within the classroom.
Varying the types of small group lessons being conducted will enable teachers to incorporate diverse and differentiated group work into the constraints of any program, schedule or daily format.
DATE: Thursday, February 1, 2024
TIME: 8:30 am – 2:30 pm
COST: $149 for subscribers / $199 for non-subscribers (includes buffet lunch)
AUDIENCE: Elementary Teachers, Reading Specialist, Directors of ELA, Elementary Administrators
LOCATION: Instructional Support Center at Sequoya, 750 Waverly Ave, Holtsville
REGISTER: http://webreg.esboces.org
Erica Pecorale (presenter) has been an educator on Long Island for the past 36 years.
Throughout that time she has been a classroom teacher, a Literacy Coach, an
administrator, as well as an Associative Professor. She has co-facilitated
multiple years of Summer School practicum that incorporated children
summer enrichment opportunities, alongside parent workshops, teacher
professional development and community stakeholders. For the past 10
years she has been the Director of Teacher Education at LIU Riverhead.
When Erica is not directly working with educators, students and parents, she
is forever grateful to be able to enjoy traveling the world with the hopes of
learning more about how to support, enrich, and inspire her family and all of
those she feels honored to work beside.
**TO REGISTER FOR EASTERN SUFFOLK BOCES WORKSHOPS, REGISTER THROUGH THE ACTIVITY CATALOG**
Check with your district to see if you are a member of Frontline/MyLearningPlan
For Frontline/MyLearningPlan Member Districts AND NON-Frontline/MyLearningPlan Member Districts:
To see available courses and to register:
• Go to the website: http://webreg.esboces.org
• Under 'Search Options' at the top center, select and check 'Eastern Suffolk BOCES Professional Development
Program' from the drop down list and click search;
• Workshops are listed in chronological order
• Select the title of the course you would like to enroll in
• Click the ENROLL button at the bottom of the page
• Select the correct login method that applies to you (1) registered user; (2) new user; (3) MyLearningPlan.com user
• After you choose your login method then Enter User Name & Password – select Log in
• Enter and update (if needed) your personal account registration information
• Click Update & Continue
• Select payment method
• Click on the checkbox to agree to the Terms and Conditions regarding registration and/or cancellations –
"REGISTRATION AND/OR CANCELLATIONS ARE DUE 10 SCHOOL DAYS PRIOR TO THE EVENT. THE DISTRICT WILL
BE BILLED UNLESS CANCELLATION IS RECEIVED."
• Click SUBMIT
• Select 'Request Approval' on the following screen if you are a Frontline/MyLearningPlan district – If you are a
Frontline/MyLearningPlan District, and depending on your district, you will need to fill out the next screen titled
"Regional Provider Form" making sure to fill out all required information; IF ALL NECESSARY INFORMATION IS NOT
ENTERED, A FORM ERROR WILL BE OCCUR AND YOU WILL NOT BE FULLY ENROLLED
• Click SUBMIT once ALL fields are filled out
• If you are NOT a Frontline/MyLearningPlan district, print out the ENROLLMENT FORM and AFTER RECEIVING
ADMINISTRATIVE SIGNATURE on this form, fax back to 631-240-8955
• You will receive an e-mail once you are fully registered
• Click RETURN TO MAIN and then LOGOUT to finish the process
**PLEASE NOTE THAT SUBMITTING ONLY AN INTERNAL CONFERENCE REQUEST FORM DOES NOT REGISTER YOU FOR OUR WORKSHOPS/CONFERENCES – IT MUST BE DONE THROUGH THE ESB REGIONAL CATALOG**
____________________________________________________
CITE is the Center for Integrated Training and Education.
For over 25 years, CITE has and continues to train:
TEACHERS (All Teacher Ed courses ONLINE): General and Special Ed Masters (Early Childhood or Childhood), Special Ed / Professional Certification Masters (pre k – 12), TESOL Masters, Special Ed license extension courses, Bilingual license extension courses, TESOL license extension courses, Early Childhood license extension courses
COUNSELORS: School Counseling Masters, Mental Health Counseling Masters, Advanced Certificate in Mental Health or School Counseling
ADMINISTRATORS: School Building Leadership, School District Leadership, Doctorate for CSA members, Doctorate open to teachers, Doctorate open to school leaders
— in all five boroughs of NYC, Yonkers, Westchester, Nassau and Suffolk.
CITE PD and Parent Workshops: CITE offers CTLE-approved in-school or online professional development and parent workshops tailored to your school's needs and your vision. We can work remotely with your staff and parents. Languages available: Spanish, Mandarin, Greek, Italian, English. Brochure (click here)