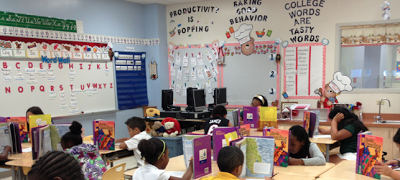 Common Core Resources for Schools and Policy Roundup
With the Common Core debate heating up, it's tough to keep track of the requirements, where to get resources for the classroom, and professional development options. And let's not forget the policy battles about federal standards (and how to fund them) going on in congress! Luckily, we've kept track for you! Here you are, up to speed, you smartypants.
COMMON CORE RESOURCES
Here is a roundup of recent news on the Common Core Standards. As we head into the new school year, districts are prepping: Principals and Teachers are attending professional development. Meanwhile, congress is still setting out the rules for their implementation and some states are pushing back.
These sites will give you a breakdown of the issues at hand, resources to start setting your classroom and school up for success, and a perspective on what's going on around the country.
What IS Common Core?
Scholastic —
http://www.scholastic.com/commoncore/index.htm
"The Common Core State Standards (CCSS) have ushered in one of the most profound educational changes in American history. To date, 46 states, the District of Columbia, and three territories have adopted the CCSS. Scholastic stands ready to provide teacher support, a wealth of Common Core-ready resources, and up-to-date information that will help you lay a solid foundation for your students, providing the skills and knowledge they¹ll need to succeed in the 21st century. Get started with the steps below."
Standards, Materials, resources – good breakdown of the issues, lots of free content, including video, classroom printables, etc…
What does it mean for my classroom (I'm a teacher)?
Common Core . org – Provides curriculum maps in ELA, MATH
What does it mean for my school (I'm an administrator)?
edweek.org – A collection of articles on implementing common core in your school
http://www.edweek.org/ew/marketplace/products/spotlight-literacy-common-core-standards-v2.html?cmp=SOC-EDIT-GOO
What is the debate about? (Policy perspective)
Politico – Nice video discussion.
Article has a good summary of the arguments against and for, challenges facing implementation, the rollout of states dropping out and why. Politico not only mentions the actual challenges and merits, but takes on the political issues as well – states' rights and perceived federal overreach being among the top objections, as well as cost to the state education departments, and the technology involved.
http://www.politico.com/story/2013/07/common-core-academic-standards-94628.html
Which states are arguing against this? And why?
Washington Post – Article on the likelihood of states leaving the program, says most will stick with it.
http://www.washingtonpost.com/local/education/state-education-officials-were-sticking-with-common-core/2013/07/24/2ed34e56-f48a-11e2-aa2e-4088616498b4_story.html
Florida, Pennsylvania, and Idaho
Here's a local view from one state who's pulling out of the program, Florida
http://www.naplesnews.com/news/2013/jul/23/florida-may-work-on-its-own-common-core-tests/
And one who's sticking with it, PA
http://articles.mcall.com/2013-07-23/news/mc-bethlehem–school-common-core-20130722_1_common-core-standards-teachers
And a balanced article, with video, from Idaho, where pro- and anti- groups are forming
http://www.kboi2.com/news/local/Common-Core-Standards-Curriculum-Idaho-Schools-Boise-News-216845661.html
Whew!
We know. This is a big issue, with big consequences – schools will have to adapt, teachers will have to gear their lessons toward a new set of expectations, new technology will have to be brought in, districts will have to find the money – all while politicians fight out the finer points of the legal matters involved.
We look forward to keeping track and sharing resources. Send us your most helpful links! We want to hear from you on Facebook and Twitter.
LINKS:
Twitter: www.twitter.com/ctrteachered
Follow these hashtags for up to the minute news and chats #ccss #ccchat #commoncore
Join us on Facebook for Teacher and Administrator points of view  www.facebook.com/ctrteachered
Our YouTube channel (www.youtube.com/ctrteachered )highlights our Administration and Guidance programs – we offer convenient, affordable weekend classes for New Teacher certification, Administration Certification, and School Guidance training. We also offer week-long classes during breaks!
Here are some Twitter handles to follow for breaking common core news:
Sharing = liking. Thanks for posting a link to this article on your Facebook or Twitter feed!
 Leave a comment below, or tweet at us @CtrTeacherEd, or talk to us on Facebook www.facebook.com/CtrTeacherEd and join the discussion! We'll see you there.