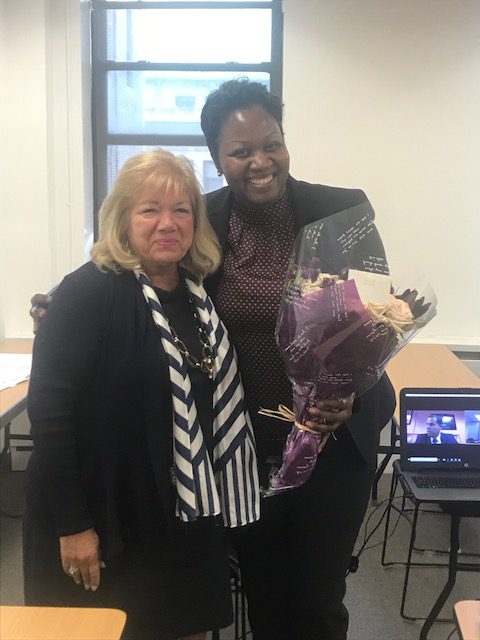 Alumni Seminar – Dr. Nia Johnson
CITE Community Seminars bring together students and graduates from across CITE programs for discussions about topics in education. Our sixth seminar leader is Dr. Nia Johnson, a graduate of our Sage Colleges Doctoral Program.
Dr. Johnson will take participants on a journey through, "An Investigation of Principal Practices in Developing the Leadership Capacity of Assistant Principals, to Close the Achievement Gap." 
This discussion is free to attend, and principals who attend will receive a CTLE credit, at no cost.
March 26th, 6pm
50 Court St, suite 1111
Register here
About Dr. Nia Johnson:
Dr. Johnson has been working for the New York City Department of Education for more than 20 years. Before joining the District 13 administrative team, Dr. Johnson served as a classroom teacher and guidance counselor. She holds a Master of Science Degree in Education from Long Island University.  She later pursued further studies in Educational Leadership at The Sage Colleges of Albany and received her doctoral degree.  Dr. Johnson is a graduate of the NYC Leaders in Education Apprenticeship Program (LEAP), Assistant Principal Leadership Institute (APLI) and the NYC High School Assistant Principal Fellows Program in District 32.
Changing the trajectory for minority students has been an ongoing vision as she has worked in various roles to provide equity and access for all students. This includes working with families and students in temporary housing, providing academic and social emotional support as well as creating partnerships with District 79 that bolstered success for under-credited and over-age populations. She firmly believes that all students can lead, thrive and excel if they are taught in ways that not only nurtures creativity to enhance learning but through social-emotional support that meets their individual needs.
Additionally, Dr. Johnson works to develop the leadership capacity of others through professional learning, feedback, conversations and coaching that has strengthened her ability to negotiate and discover solutions. Her research highlights the critical role of assistant principals and the principal's role in capacity building to close the achievement gap in urban schools. She understands the importance of partnership, collaboration and strategic goal planning for schools to be a safe space for new vision, leading and learning.
Learn more about the Sage College Doctoral Program
March 26th, 6pm
50 Court St, suite 1111
Register here
---
CITE is the Center for Integrated Training and Education. For over 25 years, CITE has and continues to train TEACHERS (Early Childhood, Professional Certification, Special Ed,Grad Courses, Bilingual courses, DASA); COUNSELORS (School, Mental Health Masters, Advanced Certificate); and ADMINISTRATORS (SBL, SDL, Public Admin, Doctorate) in all five boroughs of NYC, Yonkers, Westchester, and Long Island.
CITE PD offers CTLE-approved in-school professional development tailored to your school's needs and your vision. Info: citepd.com
We now also offer an undergraduate degree completion program in psychology.