Redesigned SAT
Redesigned SAT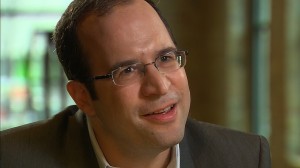 College board President David Coleman announced a redesigned SAT this week. Most notably, it's going back to 1600 points, and the essay is optional. Not only that, but in this video, released by the College Board, they give you the essay question. (It's below)
The video is one hour long, and aside form the cheesy inspirational music, does a good job of explaining the redesign. http://www.ustream.tv/channel/delivering-opportunity  
Listen to our post!

Don't have an hour? We watched it so you don't have to! Here we go:
The college board is partnering with Khan Academy to provide free test prep for the SAT. Learn more about the

Khan Academy's free courses here

. 
New prize in Analytical writing — The College board is sponsoring a series of prizes modeled on the Pulitzer Prize, along with The Atlantic. It's based on making evidence, drawing on sources to support arguments.
Redesigned SAT questions coming. In the spirit of openness, on April 16, they will share the complete design and sample questions on

www.deliveringopportunity.org

Below is a breakdown of what that will look like.


Here is the redesigned SAT breakdown
The test will have 3 sections –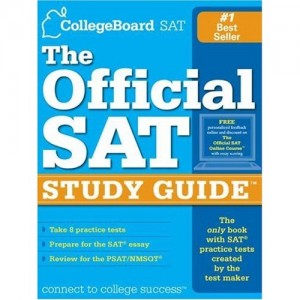 Section 1 Evidence based reading and writing – this is a big change in terms of test prep! The focus is on justifying answers. Readings will come from a wide range of source texts, including science, history, social studies, and literature. This will include graphs, tables, and numbers. There will be no sentence completions. Students will edit paragraphs for effective word choice and grammar.  Students will analyze texts and data. Vocabulary – focuses on words that students will use in life. "Powerful words" that mean different things in different contexts. No more "SAT words" meaning words you'll likely never see again after the test. 
Section 2 The Essay – In 2005 the college board included the essay. The video teas us through some unintended consequences of this inclusion, including the inability of scorers to rank the actual content of the essay. The redesign asks students to  analyze source materials for quality of argument, coherence.
Here is THE QUESTION: "As you read the passage in front of you, consider how the author uses evidence, reasoning, and stylistic or persuasive elements to add power to the ideas expressed. Write an essay in which you explain how the author builds an argument in order to persuade an audience."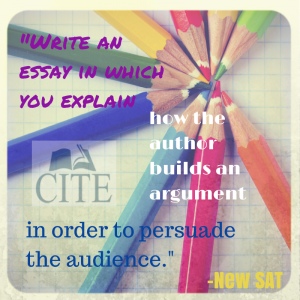 First off, nice Oxford comma, College Board. We approve. 
Secondly, thanks for the question. "This is designed to cultivate close reading, and reinforces the good work already being done in classrooms," says the college board. 
The essay is optional.
Again, the essay is optional. How this plays out remains to be seen. Who's making that choice? What will colleges think about that? How will School Counselors begin to recommend which students take which option? (School counselors, please feel free to chime in here @CtrTeacherEd or www.facebook.com/ctrteachered)
Section 3 Math – Redesigned to focus on three areas. 
Problem solving and data analysis – ratio, %, proportions in science, career, social science. The goal is quantitative literacy.

The "heart of algebra" – linear equations

Passport to advanced math – math you need to pursue STEM fields. More complex equations and functions.  
There are calculator and non-calculator sections, designed to reflect classroom work, and test number sense. 
Overall: 
These changes are intended to focus on predictive skills, and connect SAT prep to classroom learning, moving from flashcards in isolation to data analysis in writing and math.  
A last major element in the redesign: a focus on America's Founding Documents and the Global Conversation. One passage students encounter in the SAT will either be a founding document or a document from "the great global conversation they inspired."
This whole presentation is couched in language of providing opportunity, creating global and literate citizens, and helping shape the preparation students need for real-world applications. The inclusion of these Founding Documents is a nice nod to the stated mission of the college board: providing opportunity to all students. 
Technical changes – 
WHEN – The new test will first be used Spring 2016. 

HOW – It will be available in digital and print

TIME – 3 hours plus the optional essay of 50 minutes

SCALE – 1600 scale for the overall score (essay scored separately)

CONTEXT – Alignment with scores of the past, so colleges can understand them in context

SCORING – No penalty for wrong answers. Points gained for correct answers
The overall score is intended to predict success in the first years of college. It's intended to reward the work that's being done in high school and invite meaningful preparation.  

Warning!
The college board is also offering this safe use warning: "SAT scores should only be used in combination with other relevant information to make responsible decisions about students. The SAT and exams like it should never be used alone to make decisions about a person's life and future." The SAT in combination with grades is a much greater predictor than the SAT alone. 
The Full Test
 April 16, 2014 – the college board will release sample questions, a test blueprint, and the research on which they based the redesign on the website: www.deliveringopportunity.org 
In the meantime, check out the College Board website, which has a lot of information about the new test for educators, students, and parents https://www.collegeboard.org/delivering-opportunity/sat 
Further Reading 
For further reading, check out Education Week's article http://blogs.edweek.org/edweek/college_bound/2014/03/the_college_board_has_provided.html including a chart comparing SAT changes and the Common Core standards.


 SHARE!
If you found this useful, please SHARE using these buttons! Thanks!! And good luck on the new SAT. We'd love to hear your thoughts @ctrteachered and www.facebook.com/ctrteachered