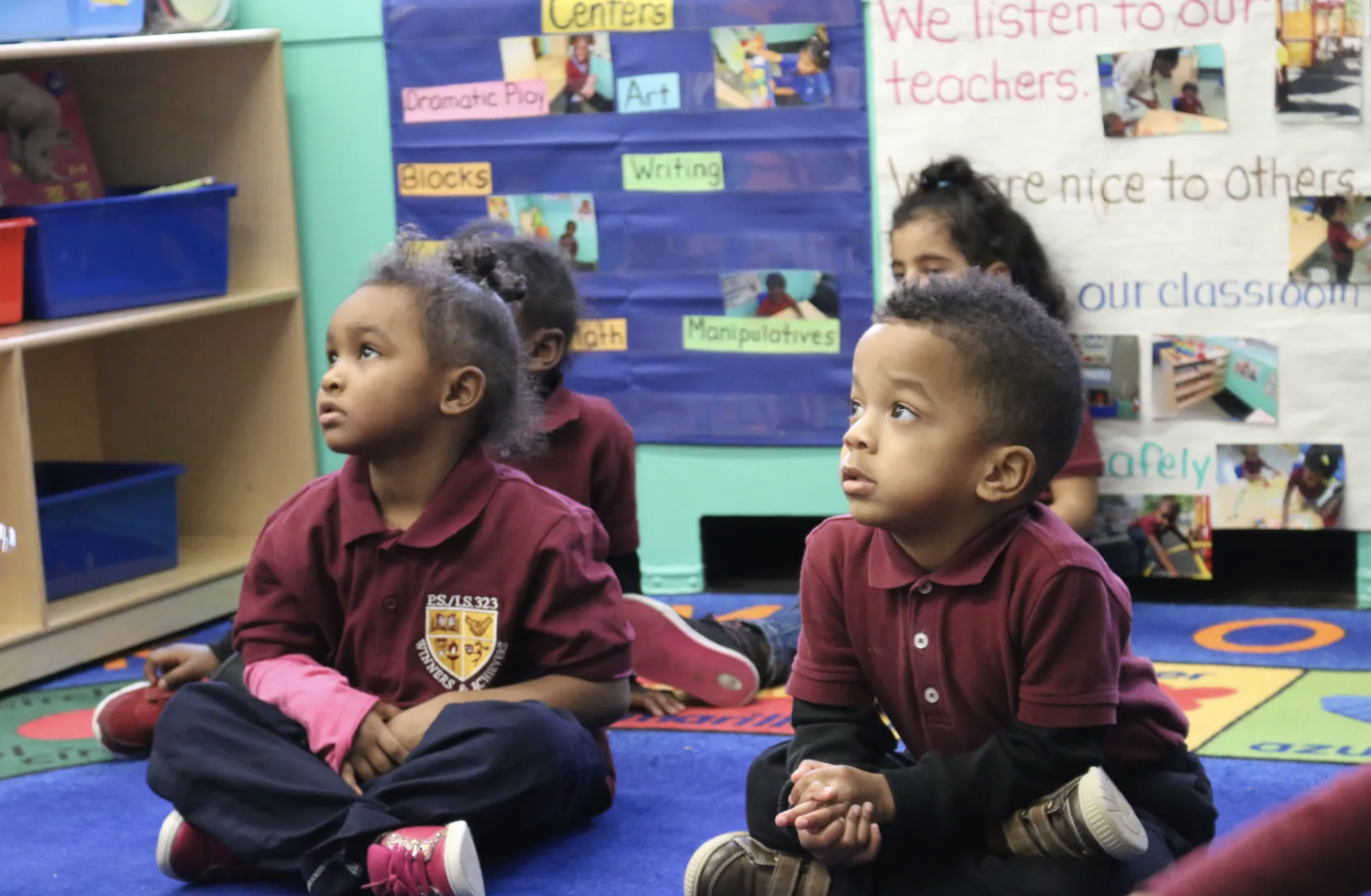 NYC won't expand prekindergarten for 3-year-olds next year
Mayor Eric Adams is not planning to expand New York City's free prekindergarten program for 3-year-olds next year, as city agencies are facing calls to cut back on spending, education department officials confirmed Wednesday.
City officials are planning to divert $568 million in federal COVID relief money that had been earmarked for 3-K expansion over the next two fiscal years to use elsewhere for the education department, Emma Vadehra, the school system's chief operations officer, said during a Wednesday City Council hearing. Instead, funding for 3-K will hold steady from this year, she said, allowing the education department to meet "a very large portion" of savings goals set out by Adams, which he's also required of other city agencies.
Former Mayor Bill de Blasio had planned to use stimulus money to create 60,000 seats for the city's 3-year-olds and make 3-K universal by September 2023. But the Adams administration has stepped back from that promise.
As of this fall, the city had planned to open 55,000 3-K seats, for a total budget of $711 million. About two thirds of that is covered by stimulus dollars, according to a City Hall spokesperson. But at the same time, about 36,500 children have enrolled.
A spokesperson for City Hall did not detail how officials plan to repurpose the money intended for 3-K, except for saying that it will go toward "central costs" at the education department.
Under de Blasio, city officials planned to use the largest pot of the education department's $7 billion in COVID stimulus dollars on expanding preschool for 3-year-olds. But the former mayor never laid out how the city would pay for the program once those temporary dollars ran out. Neither has Adams, setting up the city for a $376 million funding shortfall for 3-K by July 2025. That sum has raised concerns among budget watchdogs, including the city and state comptrollers.
Cutting back on an expansion of 3-K could help the city avoid a fiscal cliff for that program. However, repurposing those stimulus dollars for other initiatives could still require the city to either find more money for those additional services or make cuts.
Several local lawmakers and advocates expressed anger over the city's decision to halt 3-K expansion and said that there was still demand for seats in various pockets of the city.
Read the full article here:
https://ny.chalkbeat.org/2022/11/16/23463419/ny-3k-expansion-preschool-early-childhood-education-eric-adams
____________________________________________________
CITE is the Center for Integrated Training and Education.
For over 25 years, CITE has and continues to train:
TEACHERS: General and Special Ed Masters (Early Childhood or Childhood), Adolescent Special Ed / Professional Certification Masters, TESOL Masters, Special Ed license extension courses, Bilingual license extension courses, TESOL license extension courses, Early Childhood license extension courses
COUNSELORS: School Counseling Masters, Mental Health Counseling Masters, Advanced Certificate in Mental Health or School Counseling
ADMINISTRATORS: School Building Leadership, School District Leadership, Doctorate for CSA members, Doctorate for non-CSA members, Public Administration Master's
— in all five boroughs of NYC, Yonkers, Westchester, Nassau and Suffolk.
CITE PD: CITE offers CTLE-approved in-school or online professional development tailored to your school's needs and your vision. We can work remotely with your staff and parents. Info: citepd.com