NYC DOE Co Location Plan
NYC DOE Co-location plan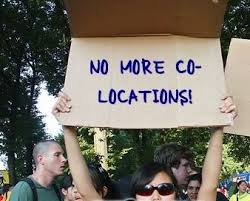 Co-locations are the term for NYC school buildings that house both NYC Public schools and charter schools. Co-locations have been a flashpoint recently, with community groups on both sides rallying their supporters and trying to get their point of view heard.
Among the issues: tax funding for these private charters, resources diverted from public schools, and the rent-free status of the charters. De Blasio made his stance on charters clear during his campaign, and without softening his stance, promised to work with community groups and charters along with DOE officials to come up with a NYC DOE co location plan.  The Mayor and Chacellor have repeated their pledge to halt co locations until they could evaluate the process. Well, that's now. Here's the plan.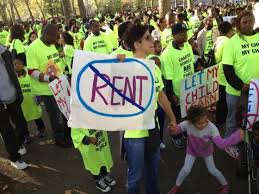 Beth Fertig (probably one of the best NYC DOE reporters — follow her on Twitter @bethfertig) wrote a piece for Chalkbeat outlining the eight versions of the NYC DOE co location plan. She also deals with the plan for community engagement to ensure the co location plans are supported.
The new process includes community meetings and forums, and gives parents and local officials a say.

The new process won't affect the dozen or so co locations that are pending.

The plans include three plans for students with disabilities and two charters who've been delayed by construction.

Plans will be submitted for public review later this week (so like our Facebook page, or follow us on Twitter for the latest!)
For more on this, read the full article here: http://ny.chalkbeat.org/2014/02/24/as-moratorium-lifts-a-new-vision-for-community-engagement-in-school-planning/



If you found this useful, please share it!