New Social Studies Curriculum!
Chancellor Farina was "visibly excited" to announce the city's new social studies curriculum recently, at the Brooklyn Public Library. The city unveiled a new k-8 scope and sequence for Social Studies.

Listen to this post!
We've included a link to the whole framework:
Download the k-8 framework here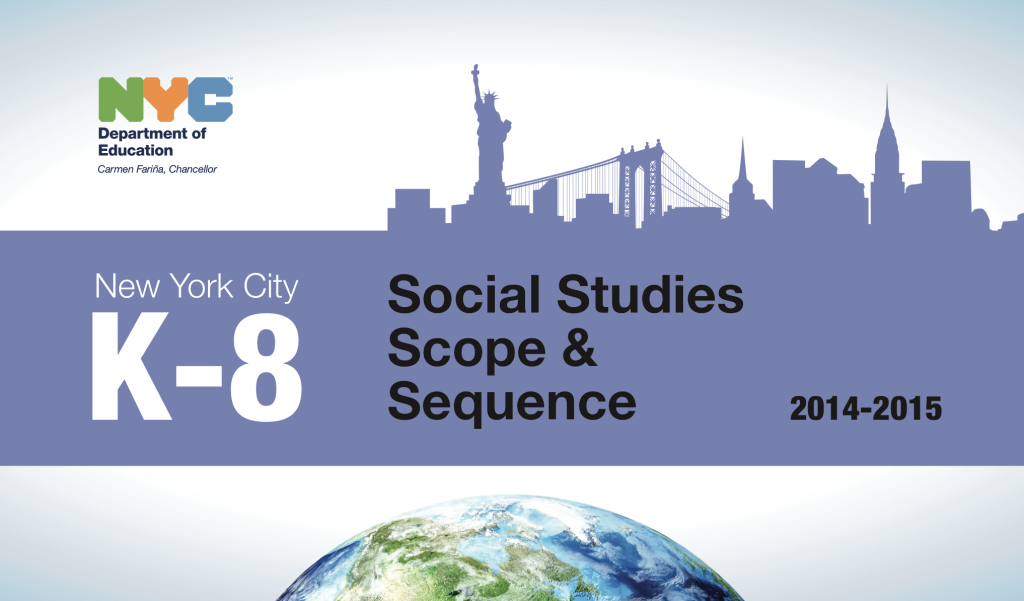 The NYC DOE says:
"This is a new Social Studies Scope and Sequence for grades K-8, an instructional framework designed with valuable input and collaboration from New York City's Social Studies teachers."
Emphasis on Collaboration
Notice how the DOE is stressing the collaboration with teachers in everything they publish lately. (See our post here on how the city announced the new School Quality Snapshot) Chancellor Farina has made this a centerpiece of her administration so far. She wants to eliminate the resentment that comes with the "top down" style of the previous mayor and chancellor.
And while she notes the collaboration with classroom teachers, the Chancellor has made it clear that she supports the strict standards of the Common Core. But she's trying to shift perception of the Common Core. Watch what she does here:
"The Scope and Sequence, which aligns to both the Common Core Learning Standards and the State Education Department's new Framework for Social Studies, identifies key Social Studies themes as well as critical thinking practices and skills that students should learn in Social Studies classrooms."
A Shift in Tone on Common Core?
Farina is adeptly aligning this Social Studies curriculum with critical thinking skills at the same time she's noting its adherence to Common Core standards. Maybe it's too little to late (or too early to tell), but this sounds like a shift breaking through the loud voices opposing the Common Core — the Chancellor has remained a steadfast voice on that issue, stating that the Common Core is a set of high standards that will help teach critical thinking.
Fariña: "beyond thrilled…social studies is alive and well and coming back to our classrooms" pic.twitter.com/nDjR7mC0MJ

— Ben Max (@TweetBenMax) September 24, 2014
The Chancellor calls Social Studies, "One of my favorite subjects, because it opens students' eyes about the world around them and its history." 
Deputy Chancellor Phil Weinberg said: "Today we celebrate exploration," and called it, "a roadmap to good thinking."
You can read the DOE statement here.
Reactions
Anna Cominante, Deputy Director for Curriulum, Instruction, and PD, says "The focus is on supporting our educators and students as we introduce them to the wonderful Social Studies subjects: history, geography, economics, government, and civics. This enhanced framework is not only going to help us engage students in their Social Studies classes, but give them the crucial skills they need to think about and engage with the outside world."
"Today's curriculum demonstrates our commitment to rigorous, joyful Social Studies instruction that engages our teachers, students, and families. I am delighted that I was able to work with our city's wonderful Social Studies teachers in developing this framework and these guidelines for units that will serve our great young minds." The Chancellor said.
What are your thoughts on the new Social Studies Curriculum? Let us know! Facebook. Twitter.
CITE is the Center for Integrated Training and Education . For over 25 years, CITE has and continues to train TEACHERS (Early Childhood, Literacy, Special Ed, Grad Courses, DASA); COUNSELORS (School, Mental Health Masters, Advanced Certificate); and ADMINISTRATORS (SBL, SDL, Public Admin, Online PhD) in all five boroughs of NYC, Yonkers, and Long Island (including SUFFOLK). 
What question can we answer for you? 877-922-2483