Mayor's Cup Chess Tournament
2014 Mayor's Cup Chess Tournament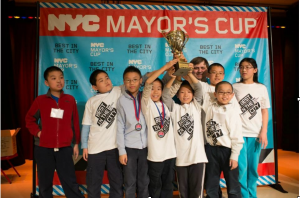 Congratulations to PS 160 in Brooklyn!
Listen to this post!

On Saturday May 3, 2014, twenty eight students from PS 160 went to PS 11 to attend the Mayor's Cup Chess Tournament.  The students, who have been trained by Yury Lapshun (an international chess master working for Chess-in-the-Schools), have been working hard all year in preparation for the Mayor's Cup and the National's Tournament in Dallas, TX.  
The tournament was a very competitive one.  It consisted of the city's top rated chess players.  PS 160 was tied for first with PS 124 going into the last round.  Jun Yan Li defeated one of the country's top ten chess players (among 10 year olds).  That victory secured first place in the Elementary Section for PS 160.  It was the first time PS 160 had won the coveted Mayor's Cup.  
The win gave PS 160 good momentum for the National Tournament in Dallas, TX this week!
Good luck to them!!
If you'd like us to highlight your school, please email John Russo at CITE.