EDxEDNYC conference
Dear CITE community,
All CITE students, faculty, and alumni are cordially invited to EDxEDNYC, a free, annual Professional Learning Conference run for educators by educators. On June 3rd (NYCDOE Chancellor's Conference Day), EDxEDNYC will be held virtually on Zoom from 9:00-2:10PM. The conference is typically held at Hudson High School for Learning Technologies and welcomes participants from across the country and around the world. This year's theme is "Reimagining Normal: Education after COVID19." EDxEDNYC Presenters include renowned educational leaders Deborah Meier, Principal Kafele, Dr. Yohuru Williams, Nicholas Ferroni, Dr. Ebony Green, and Dr. Bryan Pearlman. All education professionals are welcome, including educators, school leaders, district leaders, and related services providers.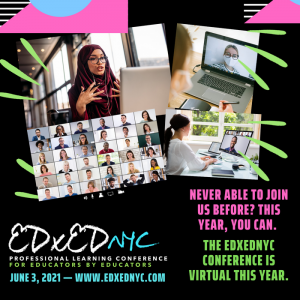 Registration is free, and EDxEDNYC will provide CTLE credits and PD Certificates for attendees. Register today at www.edxednyc.com and join your colleagues for an amazing day of professional learning. For more information, watch the video on the homepage and check out the website.
The mission of EDxEDNYC is to share best practices of pedagogy within and beyond the classroom, to network with other innovative thinkers and to continue conversations on student engagement, innovation, technology, instruction, fostering discussion, questioning, reflective leadership and design-thinking within our schools. EDxEDNYC Professional Learning Sessions are called conversations as they are interactive experiences where participants engage in dialogue with session presenters. Session proposals are being accepted for a limited time until slots fill up, so if you're interested, submit a session proposal today at www.edxednyc.com.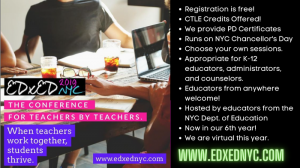 Click to register
CITE SBL and SDL alumna Jennifer Lewis serves on the EDxEDNYC Planning Team. If you are a school or district leader and you would like to register your school or district for the conference, please email Jennifer at JLewis@edxednyc.com with your request and include CITE in the subject line.
Small-group and individual registration can be completed at www.edxednyc.com.
Please note that although this conference offers CTLE credits, current CITE students will not earn Seminar credit for attending the conference.
Follow us on Twitter and Instagram @EDxEDNYC for conference updates and information.
We look forward to seeing you there!
Sincerely,
The EDxEDNYC Team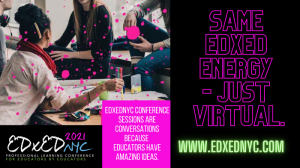 Click to register