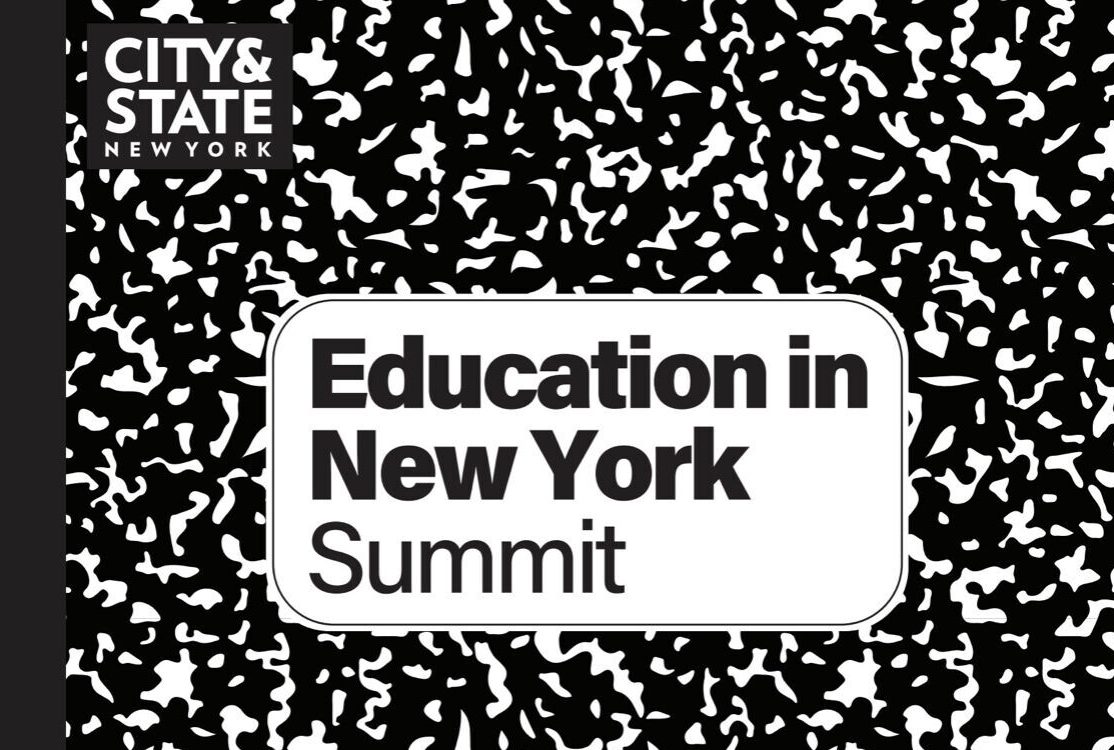 Education in NY Summit
Recently, CITE's Executive Director Dr. Donald James moderated a panel discussion on New Trends in Higher Education at the Education in NY Summit.
City & State's Education in New York summit offered industry executives, public sector leaders and academics the opportunity to share ideas and debate over critical issues such as school choice, closing the achievement gap, and special education services. The full-day event brought together the most influential leaders and thinkers in New York's education fields. Attendees heard from the decision-makers who set policy and determine the future of New York's education system.
As one of NY's largest and most influential training programs for Teachers, Counselors, and Administrators, CITE has a unique perspective on the challenges and opportunities in NY Education. Dr. James conducted the panel with the following participants: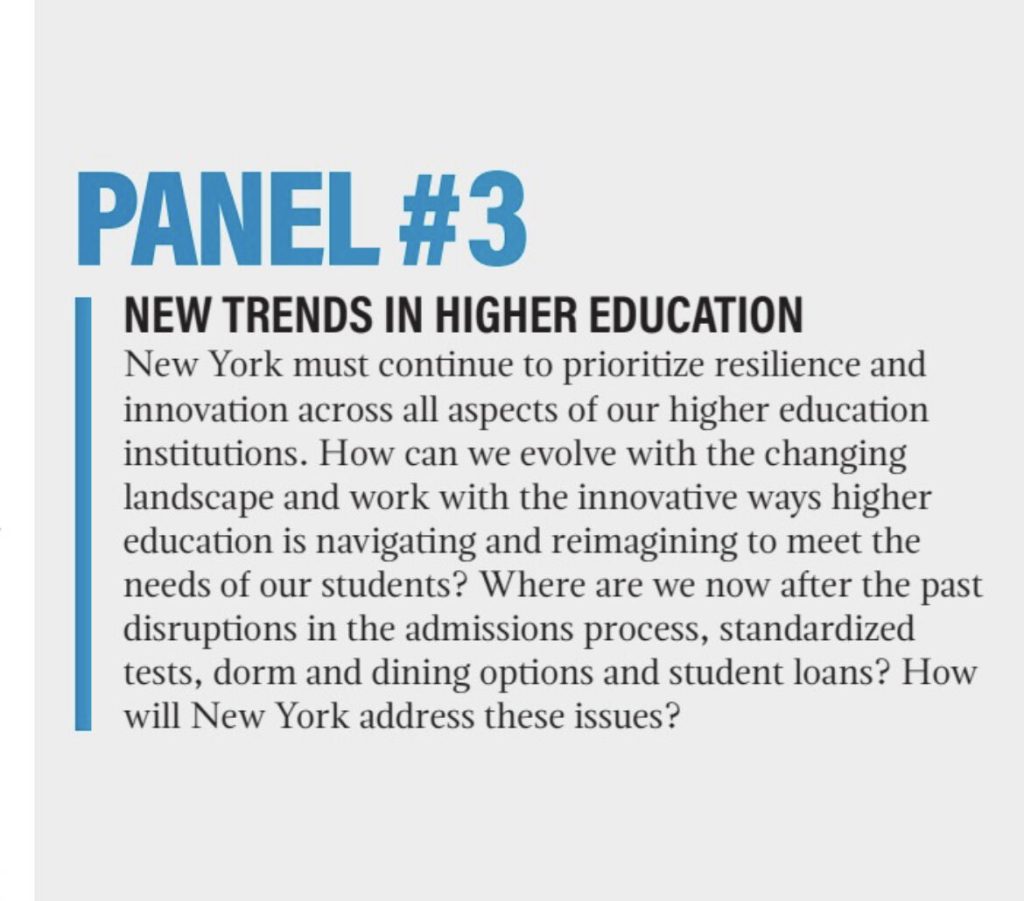 Panel Discussion: New Trends in Higher Education

Panelists:
Dr. Donald A. James, (moderator) Executive Director of the Center for Integrated Training and Education (CITE), Superintendent of Schools (retired)
Dr. William Murphy, Deputy Commissioner, Higher Education, New York State Education Department
Senator Toby Ann Stavisky NY State Senator and Chair of the State Higher Education Committee
Mr. Eric Dinowitz, NY City Councilman and Chair, New York City Council on Higher Education Committee
Dr. Rebecca Watts, Regional VP, WGU /Western Governors University
Mr. Dennis Di Lorenzo, Executive Director, RIT Certified, Rochester Institute of Technology; and
Ms. Linda Mauro, Campus Operating Officer, Berkeley College in New York City
Opening Remarks: Dr. Donald James (moderator):
Welcome to the panel discussion New Trends in Higher Education!  Whether we are discussing the Supreme Court's rejection of race-conscious admissions; booming artificial-intelligence tools that some say could transform teaching and learning; policy changes that could change the course of student enrollment for decades; budget pressures showing no signs of abating; or the growth of non-traditional instructional delivery methods like synchronous and a-synchronous "teaching," or the crisis caused by the soaring cost of higher education and the associated student debt, Higher Education is seemingly at a crossroads.   
Before we begin, you may wonder why I was selected to moderate this panel. You can certainly read my bio, but the highlights are that I spent decades in public education in all types of districts including serving as the Community Superintendent of Staten Island schools, to rural, on the east end of LI, to suburban districts, always with a focus on how to prepare students for what they want to do when they leave the K to 12 setting.  Almost universally, they wanted to continue their education or be prepared for the workforce.  However, there were and are barriers; barriers that are similar across the board, including, but not limited to, adequate preparation for success, the seemingly over-whelming cost, and accessibility.  After years in K to 12, the last 20 of which I was a superintendent and adjunct, I decided to change careers and joined the ranks of higher education in an effort to address some of these matters.
Panelists Introductions and Questions: 
However, today we are very fortunate to have a Blue-Ribbon collection of highly qualified individuals in higher education and policymakers focused who have been focused on improving the conditions of higher education.  They that have been working on these issues and more for years and I am pleased that they were able to join us today.  First let me introduce:
Dr. William Murphy, the Deputy Commissioner for Higher Education for the NYS Education Department; next
NY State Senator and Chair of the State Higher Education Committee, Toby Ann Stavisky, Chair, State Senate Higher Education Committee
Mr. Eric Dinowitz, Chair, New York City Council Higher Education Committee
Dr. Rebecca Watts, Regional VP, WGU /Western Governors University
Mr. Dennis Di Lorenzo, Executive Director, RIT Certified, Rochester Institute of Technology; and
Ms. Linda Mauro, Campus Operating Officer, Berkeley College in New York City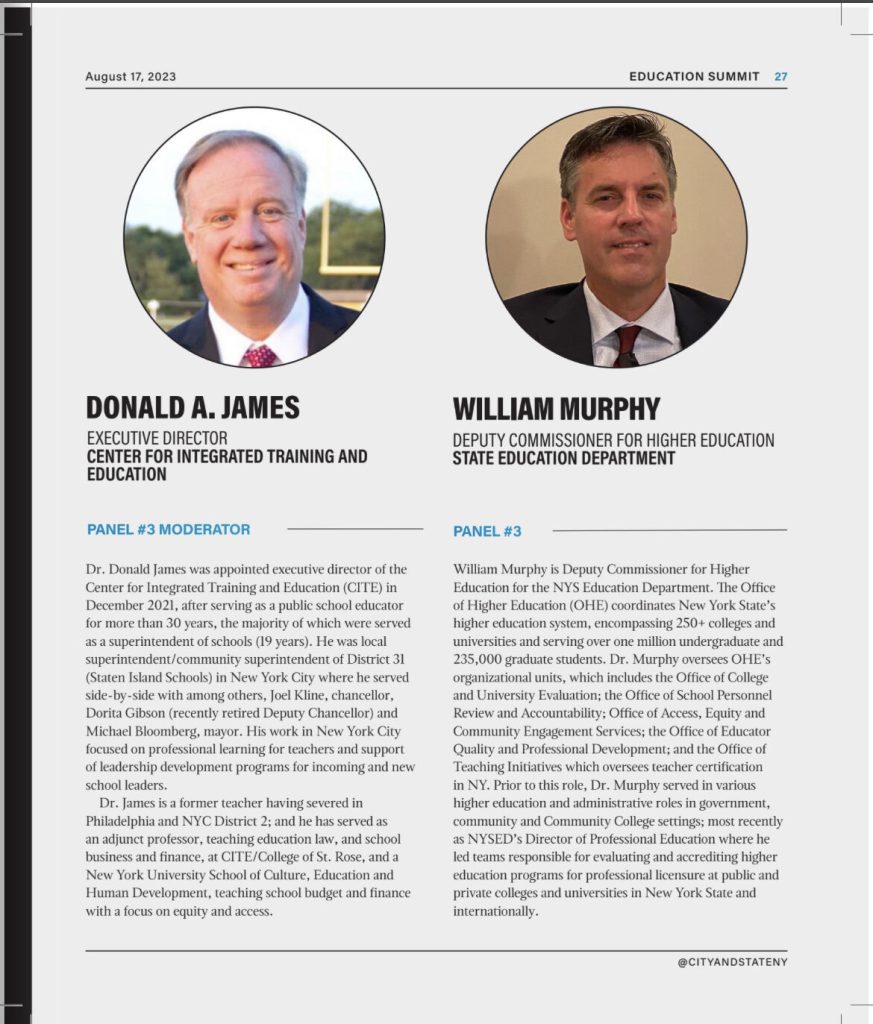 Topics:
Deputy Commissioner Dr. Murphy gave us an overview of higher education in New York including some of the patterns and trends regarding enrollment, funding, and innovative partnerships he's seeing in the SUNY and CUNY systems as well as private colleges and universities in New York.
Senator Stavinsky spoke about several legislative and policy challenges in higher education right now, and shared some thoughts on the latest SCOTUS decision on the use of race in college admissions decisions and how schools are now considering, or not, legacy admissions, and how these developments could affect college and university enrollments.
Mr. Dinowitz, as a chair of the NYC Council Higher Education Committee, spoke to student preparedness for higher education focusing on the pros and cons of coming from schools with or without standardized testing and project-based learning.
Dr. Watts, as someone who has worked to forward competency-based learning in higher education for adult learners and all historically underrepresented populations, shared some thoughts on workforce talent and leadership pipeline development in higher education as well as how schools of higher education can help students re-skill and up-skill via employer partnerships.
Mr. DiLorenzo, as someone who has served as a public-school school-board member, and has spent significant time working to design micro-credentialing programs, addressed the responsibility of employers to impact the education of the "talent pipeline" as well as the pros and cons of alternative training/credentialing programs.
Ms. Mauro spoke about her interest in online and blended learning, and how it makes sense in today's higher education environment.  She spoke to the trends towards online education and blended learning and why it is likely to continue and, perhaps more importantly, identified some of the challenges moving forward.
Read more about the panelists in the program link here: https://online.fliphtml5.com/ldkst/plct/#p=26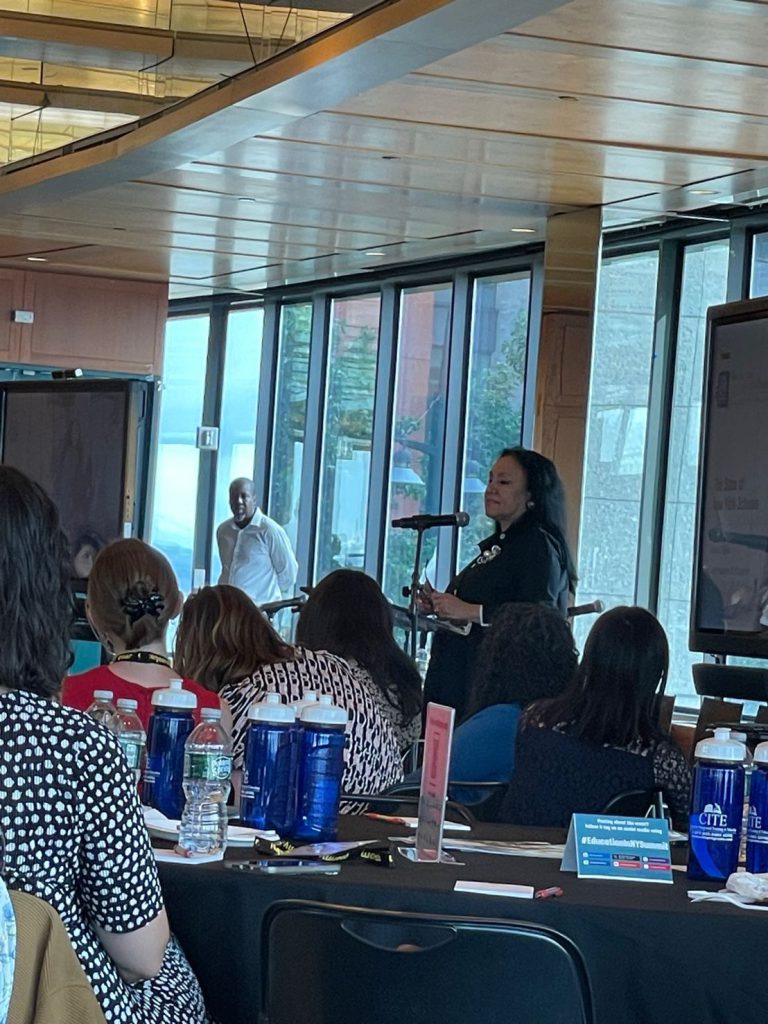 The Conference: 
State Department of Education Commissioner Betty Rosa, also president of the University of the State of New York, brought light in her keynote speech at the event to the State's Blue Ribbon Committee and the implementation of a P-20 approach to holistically address key education issues, while maintaining enough flexibility to serve diverse student needs.

Regarding standardization, Rosa noted, "We all know that not one size fits all. Although a lot of times there's a push for standardizing issues, and there's a push to mandate. Unfortunately, just like different fingerprints, there are different ways of taking in information and learning that our school system has to prepare our students with various strategies and techniques and we must remember that these strategies and techniques must be evidence-based."
Read more of the recap here: https://www.cityandstateny.com/policy/2023/08/city-states-education-new-york-summit-brings-light-resource-disparities-across-state/389525/
____________________________________________________
CITE is the Center for Integrated Training and Education.
For over 25 years, CITE has and continues to train:
TEACHERS: General and Special Ed Masters (Early Childhood or Childhood), ONLINE Special Ed / Professional Certification Masters (pre k – 12), TESOL Masters, Special Ed license extension courses, Bilingual license extension courses, TESOL license extension courses, Early Childhood license extension courses
COUNSELORS: School Counseling Masters, Mental Health Counseling Masters, Advanced Certificate in Mental Health or School Counseling
ADMINISTRATORS: School Building Leadership, School District Leadership, Doctorate for CSA members, Doctorate open to teachers, Doctorate open to school leaders, Public Administration Master's
— in all five boroughs of NYC, Yonkers, Westchester, Nassau and Suffolk.
CITE PD and Parent Workshops: CITE offers CTLE-approved in-school or online professional development and parent workshops tailored to your school's needs and your vision. We can work remotely with your staff and parents. Languages available: Spanish, Mandarin, Greek, Italian, English. Info: citepd.com