Counseling Masters alumni update
Counseling Masters – Alumni Spotlight!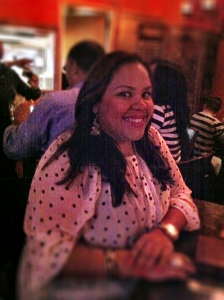 We caught up with Desiree Polonia, formerly of the NYPD, who changed careers and graduated with her counseling masters, from our Alfred University Counseling Masters Program. Desiree has great advice for anyone seeking to get a start in a new field!
1.   What is your name and what is your job?
My name is Desiree Polonia and I am a Bilingual Guidance Counselor for a HS.
2.     When did you start and complete the CITE / Alfred program? 
I began the CITE Master of Education-School Counseling downstate program from Alfred University in August 2010 and graduated June 2012.
3.     Were you working while taking the CITE / Alfred classes?
I am a career changer and was working for the NYPD at the time I joined CITE and then after a year I quit that job and began working part-time as an adjunct instructor and a youth advisor.
4.     Why did you choose the Alfred Downstate School Counseling Masters program?
I choose the program because it fit with my work schedule and was over the weekends and I could choose what day I wanted to go. I also received a great recommendation from a friend who just graduated that June.

5.     What was your overall experience of the instructors? Did any stand out?
Yes! I loved every professor. Dr. Bitting and Dr. Cerio are amazing professors and advisors. They have so many years of experience combined that it was great to hear their stories and expertise. Every one of the professors works in the field, and had so much insight and real life advice to share, it was very helpful to hear.
6.  What was the most challenging part of the program?
Getting up every Sunday to go to school, even in the winter, but once I was in class it was great and went by so fast!
7.     How did the program prepare you for your current job?
Immensely.  This program gave specific classes in all areas of counseling and working in a school. I still have moments at work where I say, "Yup, thank God I learned that in school!"

8.     What advice would you give someone starting out?
Enjoy it! It will go very fast! Read and take it all in and stay connected with your cohort! Best networking there is.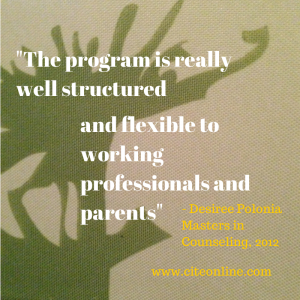 9.    Have you recommended this Counseling Masters program to anyone? 
Yes! I believe the program is really well structured and is also very flexible to working professionals and parents. Like I stated before the professors are excellent and really know the material they are teaching.
10.  Any advice you keep with you, from instructors?
Yes! Professor Lanier told me to always remember that when dealing with difficult students it is the behavior and not the student. I also remember this and use it when a student is hostile, difficult or disrespectful. It is the behavior that is bad not the student!
11.  Anything else you'd like to add?
For a private school, it is very affordable, compared to other private Master degree programs! A win win!
Thanks to Desiree for her advice! If you are a counseling Masters Alumnus, we'd love to hear from you! Connect with us on Facebook or Twitter. We may spotlight you on our blog!
[button link="http://www.alfredteachereducation.com/masters-in-school-counseling/"]For information on the counseling masters program, click here.[/button]

If you found this useful, please share it! Use these buttons.